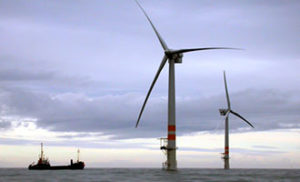 We have the flexibility to send individual members of staff or small teams off-site to offer offshore O&M (Operation and Maintenance) services. These staff have the full back-up of the workshop and machine shop facilities at our Arklow premises.
Arklow Marine Services provide O&M services to offshore wind farms, carrying out maintenance and repair of 3.6MW turbines, which often involves refit. Our staff is fully certified to work in the challenging and potentially hazardous conditions on these offshore sites. All staff are fully certified in:
Offshore Sea Survival & Rescue.
First Aid.
Confined Spaces.
Manual Handling.
Safe Pass.
Working at Heights.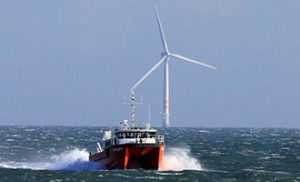 Some of the tasks we carry out as part of our offshore O&M service:
Torqueing main structure bolts and nuts.
Shaft alignment.
Hydraulic brakes and aluminum pressure refill.
Check proximity sensors.
Battery voltage and endurance tests.
Generator and subring bush gear.
Check brakes.
Grease bearings.
Check and change bushes in generator and pitch motor.
Check and change pitch motors.
We have a full repairs and maintenance service available for boats, engines and pipework including routine tasks.
WE DELIVER QUALITY ON TIME – EVERY TIME