Our Expertise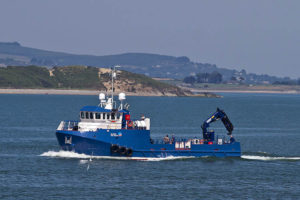 Arklow Marine Services offers expert services to the marine industry inIreland and abroad, from boat building, repair and refurbishment, to offshore operation and maintenance (O&M).
We are a family run business that has been in operation in Arklow, Co. Wicklow, for over 150 years.  Now the company is headed up by brothers John Tyrrell, an I. Eng. AMI qualified Marine Engineer from Cork Regional College, Ireland and Billy Tyrrell, a BSc. qualified Naval Architect, from Hogere Technische School, Haarlem, Holland.
While John and Billy are both professionally qualified, they appreciate the invaluable knowledge, skills and expertise handed down to them, and learned firsthand from their late father Willie Tyrrell.  This unique combination has enabled them to develop Arklow Marine Services into the leading boat builders in Ireland.  
While boat building and marine engineering are still at the core of what we do, a strong general engineering division has been developed within the business.  We have diversified to offer general engineering services to the food, petrochemical, construction and other land-based industries, and this is a growing part of our business.
---
We have the facilities and the capabilities of our skilled staff to adapt to different engineering projects from the marine and land-based industries. We work on site in Arklow, while we also have the flexibility to operate a mobile engineering service where we can send members of our staff off-site to work on specific projects.
Our Values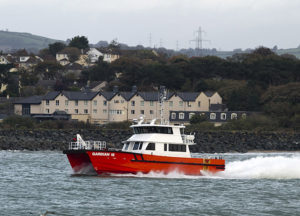 At Arklow Marine Services, we pride ourselves on our commitment to quality and excellent client service. We listen to our clients' requirements and incorporate their ideas into our designs. In addition, we offer competitive pricing, a blend of modern technology and a long-standing belief in the highest standards. Arklow Marine has become a leading aluminum and steel boat builder for the UK and Ireland.
Our focus on customer service means we have a high level of repeat business, of which we are very proud.  Customers who have placed repeat orders with us include Alicat who were supplied with three wind farm service vessels – Gardian 8 (2011), Gardian 10 (2012) and Gardian 18 (2013).  In addition, we are currently building a new Fish Farm Vessel for Marine Harvest, following delivery of a similar vessel in 2018.
---
Our commitment to innovation and improving ourselves is evidenced in our involvement with the LEANWIND project, a four-year research project in conjunction with UCC into making offshore wind farms more cost-effective. We are investigating how vessels used to service wind farms can be made more efficient.
We have adapted to change and moved with the times so that our business is resilient and can deliver on quality boat building, marine and general engineering projects